Fire rages at the basilica of Saint- Donatien in Nantes western France
Comments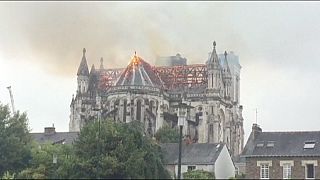 A massive fire has consumed the 19th century basilica of Saint- Donatien in the French city of Nantes.
The blaze broke out after morning mass, according to Rev Benoit Bertrand, and clergy were evacuated from the house of worship.
Firefighters are continuing to battle the blaze.
Another major building being gutted by fire: the video from Nantes is a terrifying site http://t.co/bSZLFnThvg@Apollo_magazine

— Thomas Marks (@Tomwmarks) June 15, 2015
It is feared that the basilica has sustained significant structural damage.
What caused the fire has yet to be established, but local media is reporting that welding work going on within the church may be behind the destruction.