Al Bashir back home after South Africa fails to arrest Sudan leader on war crimes charges
Comments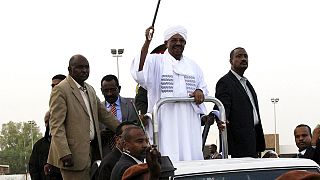 Sudanese President Omar al-Bashir has arrived back in Khartoum after avoiding an international arrest warrant on war crimes charges.
Bashir left South Africa despite an order banning him from leaving the country.
He was in Johannesburg to attend an African Union summit.
A high court in Pretoria has ruled that South African authorities had neglected the country's constitution.
Judge Dunstan Mlambo made the following announcement:
"They have failed to take steps to arrest or detain President Bashir it is inconsistent with the constitution of the Republic of South Africa of 1996."
Bashir is accused of war crimes, crimes against humanity and genocide during the Dafur conflict.
ICC lawyer Thokwane Moloko made his thoughts on the matter clear: "The impact of his leaving can be regarded as defeating the ends of justice or contempt of court, because he is a member of the United Nations, his country is a member of the United Nations."
The UN estimates that 300,000 people have died in Sudan since fighting broke out in 2003.
UN Secretary-General Ban Ki moon called for the ICC arrest warrant on Bashir to be implemented.
Sections of the South African media have criticised the African Union for inviting a man indicted by the ICC.