South Africa: ICC calls for arrest of Sudan's president during regional summit
Comments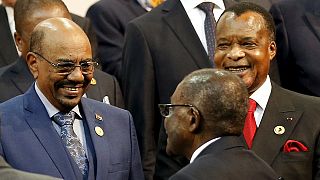 A South African court has issued an interim order blocking Sudanese President Omar Bashir from leaving the country, until a judge hears an application for his arrest.
Bashir, who is in Johannesburg for the African Union summit, is wanted by the International Criminal Court (ICC) – accused of war crimes and crimes against humanity over atrocities during the Darfur conflict.
But an arrest in South Africa appears unlikely. President Jacob Zuma's government has given immunity to leaders and delegates attending the summit.
Bashir, who started another presidential term earlier this year, was indicted more than a decade ago.
South Africa is an ICC signatory, meaning its obliged to exercise arrest warrants.
The Netherlands-based court says members would have "deep concerns" if that did not happen.
But one ICC official has reportedly said that Bashir would be a "fool" if he had not sought guarantees before leaving for Johannesburg.