Mexico finds 42 ton stash of marijuana
Comments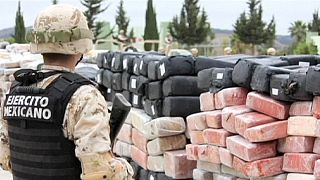 Mexican authorities have confiscated nearly 42 tons of marijuana in the city of Tijuana.
The large find was discovered inside a family home on the outskirts of the city, a major transit point for drugs destined for the US.
The stash has a street value of around 40 million euros.
The marijuana was wrapped in individual bundles,each marked with one of fifteen symbols.