Abducted Tunisian consulate staff in Libya are well
Comments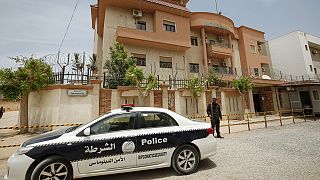 Ten kidnapped staff from the Tunisian embassy in Libya's capital Tripoli are said to be in a good condition.
The Interior Minister of Libya's self-declared government says contact has been made with their captors.
Reports said an armed group stormed the consulate on Friday and took staff hostage.
Most diplomats left Tripoli after an armed faction called Libya Dawn took over the city and set up its own government there last summer.
Most countries closed their embassies but Tunisia has recently sent consular staff back.
No group has claimed responsibility for the kidnapping.