Lisbon marches to St Anthony's Day tunes
Comments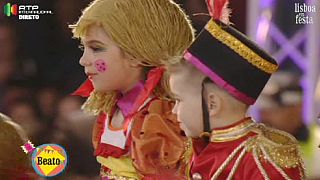 The Lisbon Festival or Festas de Lisboa is underway with a series of concerts and festivals, held each year in many of the cities oldest neighbourhoods.
And Friday night -the eve of St Anthony's Day – was one of the highlights of the month-long event, where hundreds of people took part in a procession of marches along Avenida da Liberdade.
On Saturday there'll be another procession the Sé cathedral, also in homage to the popular Saint, who is said to be the patron saint of lost things.
Decorated with coloured globes and garlands, the city's streets are invaded by the smell of roasted sardines and sweet basil accompanied by paper carnations and paintings that allude to Santo António.