US jailbreak: record-breaking manhunt crosses into Vermont
Comments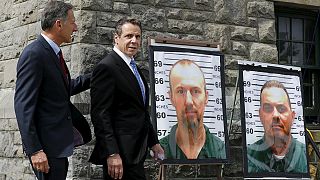 The net has been cast over a wider area in the search for two convicted killers, still on the run in the US.
Police have extended the five-day manhunt for David Sweat and Richard Matt out of New York, eastwards into neighbouring Vermont.
A female prison worker has been questioned, police confirm. She is believed to have befriended the pair and may have had a role in their escape from the maximum security jail.
Peter Shumlin, Governor of Vermont, warned people to stay aware.
"If you see suspicious people, don't go near them. Call law enforcement. Lock your doors, make sure that you are being vigilant and let's work together to get these two dangerous men locked up once again," he advised.
UPDATE: More identifying info on the two NY Escapees, David Sweat & Richard Matt. Again, if seen, Call 911 #Dangerouspic.twitter.com/bkFf1osr7p

— Blue Alert (@BlueAlertUs) June 9, 2015
Matt, 48, had been serving 25 years to life for beating a man to death in 1997, while 34-year-old Sweat had been given life without parole for murdering a county sheriff.
While behind bars, they are believed to have discussed heading to Vermont. Police say the pair may consider this a "cooler" place, with fewer officers looking for them.
Vermont is known for having a number of second residences, or summer homes. In June, the season hasn't yet started, so many of the homes may be lying vacant, as local resident Kaydel Davis explained:
"We've got our summer people coming back. But there's still a lot (of houses) that aren't open, so who knows? They could be holed up in there."
Matt and Sweat used power tools to break out of Clinton Correctional Facility. Reuters news agency reports their escape consisted of cutting through steel walls, squeezing through a steam pipe and surfacing out of a manhole.
Authorities say the pair have now set the record for the longest jailbreak in New York history. If they are caught, they face an additional seven-year sentence for escaping.