Polish ministers forced to resign over secret recordings scandal
Comments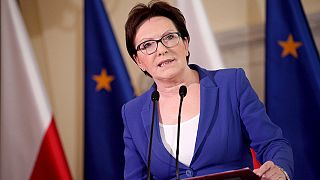 Poland's prime minister has forced several government ministers embarrassed by secret recordings to quit their posts four months ahead of a general election.
Three ministers, three junior ministers, the speaker of the country's parliament and two other senior officials have resigned.
The move by Eva Kopacz is being seen as a bid to reverse her ruling party's slide in the opinion polls.
The scandal broke last year but resurfaced this week when details of prosecutors' investigations into the bugging were leaked onto social media.
"For the past two days, public opinion has been focused on the illegal wiretaps. It has a negative influence on the functioning of the state," Kopacz said. "We can agree that the only effect of a long-lasting — over one year — investigation by the prosecution has been a gigantic leak of their files."
The recordings, made in top Warsaw restaurants, reveal senior figures making inappropriate jokes and indiscreet comments about colleagues and foreign leaders.
The best-known casualty is Radoslaw Sikorski, parliamentary speaker and a former foreign minister. He was reportedly heard making crude comments about British Prime Minister David Cameron's policy on Europe, and ridiculing Poland's relationship with the United States.
Wlodzimierz Karpinski, the treasury minister in charge of managing the state's holdings in public companies, Health Minister Bartosz Arlukowicz and Sports Minister Andrzej Biernat were also stepping down, Kopacz said.
Jacek Rostowski, a former finance minister who has been serving as chief adviser to Kopacz and was heard in the audio recordings, is quitting too, the premier said. She also said the country needed a new prosecutor-general.
The polls suggest the centre-right Civic Platform, in power for eight years, faces defeat at the hands of Law and Justice, the resurgent conservative opposition.
Last month saw a shock defeat of President Bronislaw Komorowski, a party ally of Kopacz, in a presidential election.