Platini defends French PM's decision to use state jet to travel to UEFA final
Comments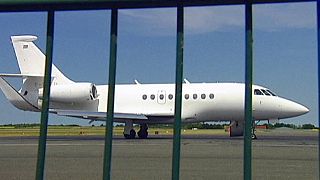 UEFA President Michel Platini has supported French prime minister Manuel Valls' decision to use a government plane to travel to Berlin with his children ahead of the Champions League Final.
The trip is estimated to have cost the state 18,000 euros. Valls defended the move, saying his role was "to support these big events for France," while Platini added:
"Mr Valls wished to meet me face-to-face before the match. It was specifically outlined that the prime minister intended to discuss two topics in particular. Firstly, a number of points being discussed between the French government and UEFA concerning the organisation of the Euros; and secondly, of course, international football following the FIFA crisis."
Both Platini and Valls are usually based in Paris.
The French prime minister was born in Barcelona and is a huge fan of the city's football team, which was playing against Juventus in the final.
Opposition politicians have dubbed the Socialist a big spender, who is out of touch with the French people.
Republian MP Thierry Solère said:
"I'm afraid that he's not opening his eyes to the political fault he's made. Public funds are precious – it scares me that he doesn't realise this."
While his colleague Claude Groasguen added:
"You have to practice what you preach."
They have called for Valls to reimburse the cost of the trip, particularly since his family travelled with him.
However, the prime minister's team argues the children's presence added nothing to the cost of the flight.