Lufthansa plane delivers tragic cargo to grieving families in Düsseldorf
Comments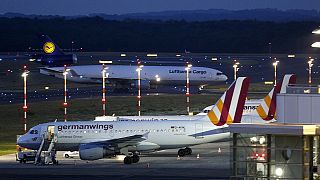 A Lufthansa cargo plane landed at Düsseldorf airport on Tuesday night carrying the remains of 44 victims of the Germanwings plane crash.
Their families have requested private funerals .although there will be time set aside for them to visit the coffins inside a hanger later today.
A special Lufthansa flight with the mortal remains of the Germanwings crash victims landed in Düsseldorf. 44 coffins. pic.twitter.com/AGxoF2OK3r

— Laura Schneider (@alauraschneider) June 9, 2015
The remains of the rest of the victims who came from 18 countries including Australia Japan and Spain will be sent back over the coming weeks.
One hundred and fifty people died when Co-pilot Andreas Lubitz is believed to have intentionally flown the airbus passenger jet into the French Alps in March.
Sixteen of them were students returning from an exchange trip in Barcelona.
It is hoped the repatriation of the remains – delayed by errors on death certificates in France – may bring a sense of closure for some families.