International monitors deplore rising ceasefire violations in eastern Ukraine
Comments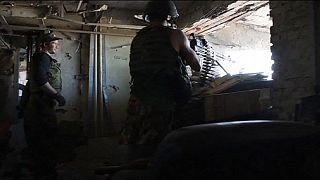 International monitors in eastern Ukraine have reported a rising number of ceasefire violations as fighting continues in the area around Donetsk, amid fears of a return to all-out war.
If it wasn't for the Minsk agreements we would be in Kyiv by now. But our arms are chained up, so we are still here, in Donetsk
The Organisation for Security and Cooperation in Europe (OSCE) says heavy weapons have being moved and used in areas where they are banned by February's Minsk agreement.
There has been heavy fighting around the airport between Ukrainian government forces and pro-Russian separatists.
"If it wasn't for the Minsk agreements we would be in Kyiv by now. But our arms are chained up, so we are still here, in Donetsk," said a rebel volunteer from Russia who used the name "Mishka".
There is plenty of evidence of civilian areas damaged by shelling. In the Oktyabrsky district of the rebel-held Donestk, several houses were on fire after shells landed on them.
"There is nowhere to hide. We have to hide like rabbits in bushes. We are fed up with this. This mess has continued for more than a year," said resident Alexander Zherebtsov.
Without specifying who the aggressors were, he added:
"They destroy everything, they shoot day and night, nothing to be happy about. We want it to be better, but it's not."
The clashes are claiming lives on both sides on an almost daily basis.
East Ukraine: OSCE_SMM</a> access continues to be restricted by both sides - <a href="https://twitter.com/mikeybbq">mikeybbqhttps://t.co/xZEw4B6TwNpic.twitter.com/EzUCn3hsYo

— Hromadske (@Hromadske) June 10, 2015
In a submission to the Council of Europe, Ukraine has officially claimed that part of the east has been occupied by Russia.
An investigation by Britain's Sky News into the recent deaths of three Russian servicemen claims to cast serious doubt on the Kremlin's denials of military involvement in Ukraine.
Many western analysts believe Moscow's strategy is deliberately to destabilise the region, and there have been suggestions that events are slipping out of Moscow's control.
It has been claimed that pro-Russian separatists in the contested regions of Donetsk and Luhansk are prepared to remain part of Ukraine under a specially recognised status, a move backed by Vladimir Putin – for economic reasons, say some analysts.
The Russian President said again on Wednesday that he backed a peaceful settlement and full implementation of the Minsk agreements, after talks in Milan with Italian Prime Minister Matteo Renzi.