Egypt boosts tourist site security after Luxor suicide bombing
Comments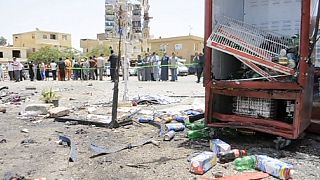 Egyptian authorities are stepping up security after a suicide bomber blew himself up near the ancient Karnak temple in the southern city of Luxor.
It is being seen as a sign that militants are shifting focus to target the country's economic recovery and vital tourism industry.
Although no tourists were hurt, the attack at Karnak is the second in just over a week on a major tourist site.
The attack could've been much worse but the perpetrators were stopped from passing close to the historic site by a security cordon protecting the temple.
Authorities believe the militants timed their attack to coincide with the major pan-African trade conference that ends on Thursday in the Red Sea resort of Sharm el-Sheikh.
Two policemen were among four Egyptians wounded as a result of the bombing. Two assailants were killed, one by the device he was carrying. The third was injured by gunfire.
No group has yet claimed responsibility.