Hungary 'told' to crack down on hate
Comments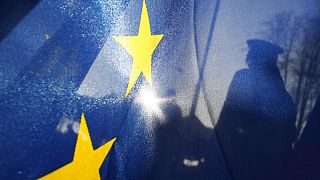 It was passed off as joking when European Commission Jean-Claude Juncker said "hello dictator" to Viktor Orban last month, but a new Council of Europe report in all seriousness has called for action to fight racism and intolerance in Hungary and Poland.
The report talks about hate speech across the political spectrum, and "a climate of impunity".
Prime Minister Orban, who rejects allegations that civil rights are breached in his country, expressed contempt in the European Parliament for EU plans to distribute asylum-seekers among all the bloc's member states:
"Hungary and the European Union have very good reasons to deal with the issue of economic migration. I am convinced that the European Commission proposal on the table is absurd, bordering on insanity."
Billboards in Hungary warn newcomers against taking jobs from Hungarians, and orders respect of the law. It is part of a government anti-immigration campaign.
Stephanos Stavros, with the Council of Europe's anti-racism commission and who helped write its report, told euronews: "We have big concerns in connections with hate speech, targeting all the vulnerable groups: migrants, Roma, Jews, homosexuals, transsexuals, and so on. We have issues concerning violence and with Roma integration, Roma children going to the wrong kind of schools, Roma children going to segregated schools."
The report by the 47-nation human rights defence body the Council of Europe highlights that anti-Semitism is especially rife in Hungary's far-right Jobbik party, which has attracted voters away from Orban's Fidesz party.
The report cites "blatantly racist material and cyberhate", and recommends that the authorities punish hate speech.
The television channel 'Echo TV' is singled out as a serial 'offender'. Critics describe it as favoured by neo-fascists. It regularly promotes the leader of Jobbik, Gabor Vona, who recently vowed to curb party radicals. He once founded a paramilitary group that preyed on the Roma minority.
Some media have speculated that Jobbik may have prompted the government's anti-immigration drive. Last year, Hungary received more refugees per capita than any EU country except Sweden, almost 43,000.
Meanwhile, the harassment of Roma by members of the Hungarian far right continues.