Greece offers new proposals to creditors to unlock bailout funds
Comments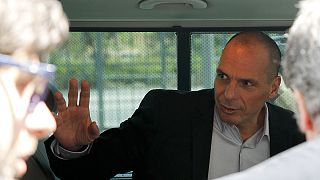 Greece has handed its creditors new proposals in the hope that they'll agree to unlock funds to avoid bankruptcy.
In a further attempt to compromise with lenders Athens has agreed to increase the rate of VAT and proposed higher budget surplus targets.
The Greek finance minister says the blame game must end:
"It is time to stop pointing fingers at one another and it is time that we do our job to bring to fruition efforts of many months to come to an agreement. Thank you."
Last week Greece became the first country to defer a payment to the IMF since the 1980s.
It is set to bundle all this months payments to one lump sum of 1.7 billion euros by June 30.
This is the same day it must reach an agreement to unlock new funds from its European creditors or face financial oblivion.