African free trade agreement to be signed in Egypt
Comments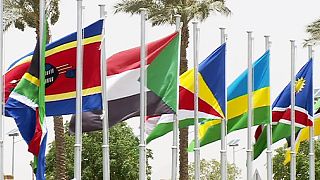 The leaders of 26 African nations have been laying the groundwork for an African Free Trade Union in the resort of Sharm El-Sheikh in Egypt.
Behind closed doors ministers of the three African economic blocs: the Common Market for Eastern and Southern Africa (COMESA), the South African Development Community (SADC), and the East African Community (EAC) have been discussing the deal that is expected to be signed on Wednesday (June 19).
The merger of the three groups will see a trade zone that expands from from Cairo to Capetown representing 60 percent of the continents GDP and 52 percent of its population.
Francis Mangeni is the Director of Trade, Customs and Monetary Affairs for COMESA:
Speaking to euronews he said: "This is a landmark. It's a milestone in the history of Africa; and the reason why is because you now are going to have a free trade area, a single economic space covering half of Africa, so that's unprecedented."
Once signed a timetable for implementing the agreement will be decided at a later meeting.
euronew's correspondent in Egypt, Mohammed Shaikhibrahim said:
"Access to economic integration between African countries still faces many difficulties, notably the readiness of the infrastructure of these countries, specifically in the field of transport, telecommunications and energy"