Oscar Pistorius to be released after 10 months in prison
Comments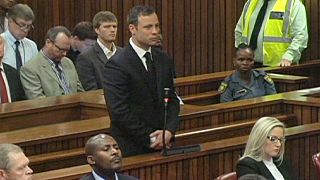 South African athlete Oscar Pistorius is set to be released from prison on parole in August after serving 10 months for culpable homicide in the killing of his girlfriend Reeva Steenkamp.
The release of Pistorius, nicknamed the blade-runner due to the prosthesis he uses to compete, was largely expected because he was sentenced under South African law to serve a short period of time in jail, or just one-sixth of the sentence.
The Olympic and Paralympic track star is currently serving a five year prison sentence after being convicted in October following a seven-month trial.
Pistorius shot his 29-year-old girlfriend, who was a model and law graduate, through the bathroom door of their home in pretoria on Valentine's Day 2013.
He never denied being the shooter but claimed to have thought she was an intruder.
Prosecutors had pushed for a murder conviction. The prosecutors are appealing the culpable homicide conviction and will seek a murder conviction when their case is heard in November.
The decision could leave Pistorius open to a prison sentence of at least 15 years if he is convicted of murder.
Pistorius is probably the best known Paralympian in history dominating sprinting events for years and even earning the right to compete against able bodied athletes in the London 2012 Olympics.