Greece ready to compromise on cash-for-reforms deal
Comments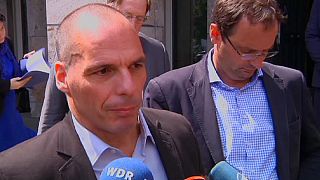 Greece said on Monday it was willing to negotiate on a cash-for-reforms deal it needs to clinch by the end of June, when its bailout programme expires and it faces default on its debt.
Finance Minister Yanis Varoufakis sounded conciliatory after meeting his German counterpart Wolfgang Schaeuble in Berlin.
"Dr. Schaeuble and I had a long, productive conversation.
"We have a common understanding of the problem and the whole purpose was to try to achieve a commonly designed, planned, agreed solution to the impasse in which we have unfortunately found ourselves over the last few years, actually, to be precise, with this ongoing Greek crisis," Varoufakis told reporters after the encounter.
Athens and Brussels exchanged proposals last week in the hope of breaking an impasse that, if unresolved, could force Greece out of the euro zone, an unprecedented event that could shake financial markets and even the global economy.
Chancellor Angela Merkel said on Monday during a G7 summit in Bavaria she wanted Greece to remain in the eurozone, but that time was running out. She said she hoped more progress would be made during a meeting with Greek Prime Minister Alexis Tsipras and French President Francois Hollande in Brussels on Wednesday (June 10).
"It must be said that there isn't much time left. That's the problem and that's why everyone must work intensively," Merkel said.
"The day after tomorrow there will be the opportunity to discuss it with the Greek prime minister in Brussels at the EU-Latin America summit. But all I can say is that every day counts now to get the necessary work done."
Last week, Tsipras delayed a 300 million euro IMF repayment
and "rejected as "absurd" the set of pension cuts and tax hikes demanded by creditors in exchange for more cash":http://www.euronews.com/2015/06/05/european-commission-reform-proposals-absurd-says-greek-prime-minister/.
His leftist party Syriza was elected earlier this year on a pledge to end austerity and it's growing angry that more budget cuts may be needed to prevent Greece from defaulting on its debt.
Greek Labour Minister Panos Skourletis said if a deal was not reached soon with creditors to unlock fresh funding, early elections would likely be needed to let the Greek people decode.
Opinion polls show most Greeks want to remain in the euro zone and are willing to accept compromises with creditors to resume the funding that has kept the country afloat since it almost went bankrupt in 2010.