Volunteers help identify victims of Chinese cruise ship disaster
Comments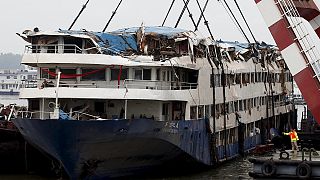 The Chinese authorities to try to identify the bodies of nearly 400 people known to have died in the country's worst shipping disaster in decades.
The process is taking place in mortuaries at Jianli in the central Hubei province, following the disaster in which a cruise ship capsized in a freak storm on the Yangtze River.
So far the government has kept families away, saying it will arrange a reception centre.
About 40 local volunteers, mostly male and wearing blue uniforms, have been helping out by moving bodies for DNA sampling.
"The situation is really tragic. It's hard to see. It makes you feel like you want to cry. Really, I'm 18 years old and this is the first time I've seen something like this. I think we Chinese should be full of compassion and do our best to help them (the relatives)," said one young volunteer, Surnamed Yin.
The official death toll rose to 396 on Saturday. With more than 40 people still missing, rescuers have been searching the cabins of the four-level Eastern Star which was righted by large cranes and raised above the water line on Friday.
The captain and chief operator have been detained for questioning; the boat operator has apologised and vowed to cooperate with investigations.
Beijing has pledged that there'll be "no cover-up". An initial inquiry found the ship was not overloaded and had enough life jackets on board.