Farah pulls out from Birmingham Diamond League
Comments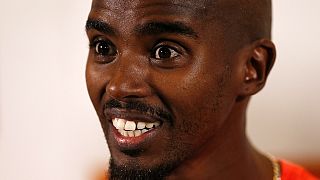 Double Olympic champion Mo Farah has withdrawn from the Diamond League meeting in Birmingham Sunday, a day after expressing his anger over the doping allegations surrounding his coach Alberto Salazar.
The 32-year-old who won two gold medals at the London Olympics was due to compete in the 1,500 metres but has since pulled out, citing emotional and mental strain following the allegations.
"This week has been very stressful and taken a lot out of me. I have not been able to focus properly on today's race and after the events of the last few days feel emotionally and physically drained," said Farah in a statement.
"I want to run well in the IAAF World Athletics Championships in Beijing and have decided it is better for me to go back to the US, seek answers to my questions and get back into training."
"I apologise to the people who bought tickets to come and watch me race and ask for your understanding at this time."
On Saturday, Farah maintained that he was a "100% clean athlete" after a BBC investigation alleged that his coach Salazar had given testosterone to Farah's training partner Galen Rupp, while a former assistant coach to Salazar claimed that the two violated the therapeutic use exemption certificates system.
The exemption certificates allow athletes to take banned substances for medical reasons but it is understood that the certificates are rarely issued for the use of anabolic steroids such as testosterone.
Salazar and Rupp both deny all the allegations.
Although the documentary did not accuse Farah of breaking anti-doping rules, the Olympic champion in the 5,000m and 10,000m said in a press conference yesterday: "It's not fair. I haven't done anything, but my name is getting dragged through the mud."
"I am not leaving Alberto for the reason that I've not seen any clear evidence," he said. "I have spoken to him and said, 'What's going on?' I said I need answers and he said, 'Mo, I can prove to you, these are just allegations.'"
"You guys (the media) are killing me," he added. "I know how hard I work, what I put my body through day in day out, 120 miles week in week out. If you have something on me then, of course, bring it."
Farah will be talking to seven former members of the Nike Oregon Project where he trains to shed more light on the situation.
"It's about Alberto, allegations made to him. It's not about me. I hope the public can understand that."