Deutsche Bank co-chiefs to step down
Comments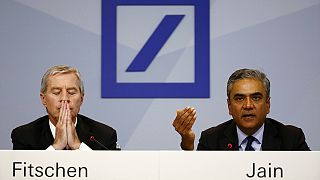 The co-chiefs of of Deutsche Bank are to step down.
Anshu Jain and Juergen Fitschen had been under pressure from investors to do so after a series of problems hit the bank.
Briton John Cryan has been appointed as the bank's new and sole chief executive.
Cryan, 54, has been on the bank's supervisory board since 2013 and was a former chief financial officer of UBS.
Deutsche Bank had been embroiled in a legal battle with the Kirch media group and was hit with a 2.3 billion euro fine over Libor manipulation in April.