Kurdish HPD rally blast confirmed as bomb
Comments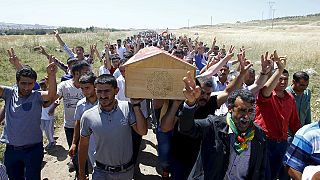 Turkish security forces say a gas canister wrapped with ball bearings caused at least one of two deadly blasts at a Kurdish election rally on Friday.
Officials say two people were killed and at least 100 injured.
The crowd soon blamed Turkey's President for the attack; chanting that he is a killer.
Recep Tayyip Erdoğan described the blasts as a "provocation" designed to undermine peace.
"The fact that this incident came two days before Sunday's polls casts a shadow over the election, but we will hold the election one way or the other.
"We are making every effort to carry out the election under best conditions by stepping up the security measures."
The attack took place in Diyarbakir, the largest city in Turkey's mainly Kurdish southeast.
Pieces of shrapnel tore through a rally where thousands had gathered in support of the pro-Kurdish Peoples' Democratic Party (HDP)
It caused the HPD leader Selahattin Demirtaş to cancel his speech, but at a later rally by the party's headquarters he called on thousands of supporters not to retaliate and said peaceful change will be achieved via the ballot boxes.
"These are times when we need to show we have an iron heart and an iron will," said Demirtaş.
"Of course, they want to stop this march. They tried it on every occasion. On every occasion they tried to shoot us in the heart but what we need is peace. Whatever they will try to do, we will make sure that peace is achieved.
"Peace will come to Turkey and you will be the ones to bring it. The peace will come with your common sense."
Opinion polls suggest the HPD has surpassed 10 percent the amount needed to become the first Kurdish party to earn seats in Turkey's parliament.
It could even earn enough seats to threaten the majority government the AK party has enjoyed since sweeping to power in 2002.
The HPD's recent rise has caused tensions in the country.
Erdoğan, the former head of the AK party, has accused the HDP of being a front for the Kurdistan Workers' Party (PKK), which took up arms in 1984 in an insurgency that killed 40,000 people.