Will Turkey have one party rule or a coalition governments?
Comments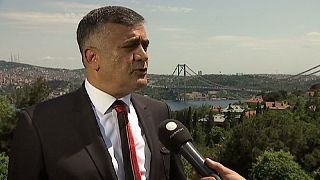 Bora Bayraktar, euronews:
What is the latest picture in Turkey, according to public opinion polls ahead of Sunday's election?
Adil Gür, director of polling institute A&G:
"Turkey has been busy with a few things over the last three months. There are two questions: first, will the pro-Kurdish party HDP reach the 10 percent electoral threshold? Second: will Turkey have one party rule or will things go back to the way they were in the 1990's, with coalition governments? For the last three or four months, based on our public opinion polls and our interviews with people, we have concluded that, for the first time, in this election, one or even half a percentage point will matter. For now we can tell viewers that, looking at the polls I have, it's not possible to say for sure whether there will be a one-party government or whether there will be a coalition government. I believe that on election night this Sunday, until the last vote has been counted, until we see who gets the last seat in parliament, we will continue to ask this question."
euronews:
_In the last few elections, people largely voted according to their ethnic identity.
What will happen this time around? What concerns will voters take to the polls?_
Adil Gür:
"More than one concern, for sure. Most of the voters of HDP vote for ideological reasons. They say: 'It represents my ethnic identity, it fits my ideology, I feel close to it.' Most of the voters of the Nationalist Movement Party (the MHP) vote according to their nationalist reflexes. So, as the Kurdish nationalist party HDP rises, the Turkish nationalists also naturally rise. This is a sociological phenomenon you see all around the world. Most of the voters of the Republican People's Party (CHP) also vote for ideological reasons. They act according to their anti-AKP stand. But only a very small part of the voters of the ruling party vote according to ideological concerns. Most of AKP voters say "I vote because I am happy with my everyday life. I am happy with the government's services and I will continue to vote for it. In conclusion, voters do not vote for just one reason. People vote out of economic concerns as well as ideological concerns.
"But in Turkey, the main issue that will determine the fate of this election, that will determine who will or will not make up the government is the economy, and whether or not people are happy with their everyday life. People are looking for answers to questions like: how will I pay my rent at the end of the month? How will I pay my kids' school fees? How will I pay my credit card bills, and who will take care of me when I get old?"
euronews:
So can there be a stable government? Or should we expect more elections soon afterwards?
Adil Gür:
"Turkey has been incredibly polarized in the last few years. Political party leaders throw harsh words at each other that you would not even hear in a street fight. And there is this polarization. So first of all, the chance that these leaders will come together is really thin. Secondly, if we have a ruling party elected with a small margin, it will be difficult for it to remain in power for a long time in a country like Turkey, where you have the Kurdish issue, the Syrian civil war and other big developments in the Middle East.
"For this reason, my view – as someone who has been following Turkish politics for a long time – is that whether we have a one-party government elected with a small margin, or we have a coalition government; it seems that Turkey will be going to the polls again for an early election fairly quickly."