Explosions kill 2, injure 100 at Kurdish rally in eastern Turkey
Comments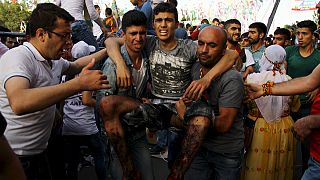 At least two people were killed and more than 100 injured when two explosions ripped through a Kurdish party rally in eastern Turkey on Friday, just two days ahead of a heated general election.
The blasts occurred five minutes apart at the final election rally of the People's Democratic Party (HDP), which hopes to become the first pro-Kurdish party to win seats in Turkey's parliament in Sunday's vote.
The rally was held in Diyarbakir, the main city in the country's mostly Kurdish southeast.
The cause of the explosions was not immediately clear, and the HDP's chairman Selahattin Demirtas called on his supporters to stay calm.
"We will manage to get through these difficult times together. These are times when we need to show we have an iron heart and an iron will," he said. "Of course, they want to stop this march. They tried it on every occasion. On every occasion they tried to shoot us in the heart but what we need is peace."
After the explosions, militants cried for revenge and scuffled with police, who dispersed the crowds with teargas.
Tensions run high ahead of Sunday's election.
The HDP needs to overcome a 10 percent electoral threshold to make it to parliament, and some opinion polls show it could seize enough seats to deprive the ruling AK Party of the majority it has enjoyed since it came to power in 2002.