South Korea confirms five more MERS cases
Comments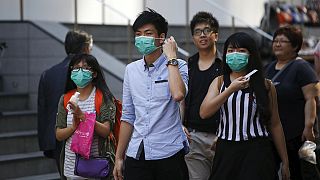 Five more cases of Middle East Respiratory Syndrome, or MERS, have been confirmed in South Korea.
It takes the total number of people infected to 30. Two people have died.
While there has been no sustained human-to-human transmission, the nightmare scenario is that the virus changes and spreads rapidly.
"(MERS) is dangerous. If I don't take precautions, I could contract the disease so I'm wearing this mask for protection. I think the government should focus more on this problem and take proactive steps."
MERS was first identified in humans in 2012 – and is caused by a coronavirus. There is no cure or vaccine.
South Korea reported its first two deaths from MERS on Tuesday, fueling fear in the country which has reported the most cases outside the Middle East, where the disease first appeared.
Around 1,300 people have been quarantined or isolated in South Korea for possible infection.
Of the five new cases, four had been in the same hospital as the first patient, a 68-year-old man who had just returned from a trip to four countries in the Middle East.
The other, a 60-year-old man, caught it from another infected person.