The world needs more France, Spain's King Felipe declares
Comments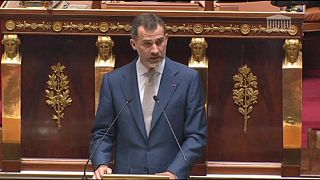 King Felipe of Spain has called for "more of France" in the European Union and the world over.
'No France, no Europe'
"Without France, there is no Europe," he told French politicians during a speech at the National Assembly in Paris.
Foreign heads of state are rarely invited to speak at the Assembly. Felipe's father was the first to address the hall, twenty two years ago.
The current king spoke to his audience in French:
"Without a confident France, which is loyal to its values and determined to defend them, Europe and the world would lose a prized reference, a fundamental reference," he said.
Felipe and Queen Letizia are resuming an official state visit to France, which was cut short in March, 2015, when a Germanwings plane came down over the French Alps, killing all 150 people on board, including dozens Spanish nationals.
'La Nueve'
Ahead of the speech, the royal couple took part in a ceremony to officially inaugurate a garden behind the capital's town hall. They named it La Nueve, after a company of mainly Spanish Republican soldiers, which helped liberate Paris in August 1944.