FYROM 'to hold early elections' in effort to ease political tensions
Comments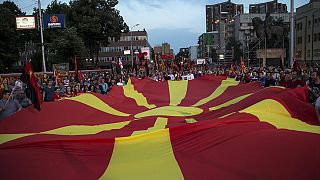 After eight hours of EU-brokered talks, political leaders in the Former Yugoslav Republic of Macedonia (FYROM) have come to an initial deal on early elections.
A candidate for European Union membership, the former Yugoslav Republic will go to the polls by the end of April 2016, Johannes Hahn, Commissioner for EU Enlargement, confirmed.
The last election, in 2014, saw Prime Minister Nikola Gruevski originally re-elected to a new, five-year mandate.
Commissioner Hahn alluded to potential changes to the electoral code and the importance of respect for minority rights. He added:
"It will be further important to accept all the recommendations being given by the European Commission when it comes to the independence of the judiciary."
The agreement between the heads of the country's four main political parties – which included politicians from the nation's ethnic Albanian minority – could see an end to months of political unrest sparked by revelations the government illegally collected thousands of wiretaps.
The government says the tapes were made by a foreign spy agency, working with opposition leader Zoran Zaev.
Zaev claims 20,000 political figures were targeted, as well as journalists and judges. He maintains the government illegally collected the wiretaps.