Sarkozy reconsolidates by renaming UMP 'Les Républicains'
Comments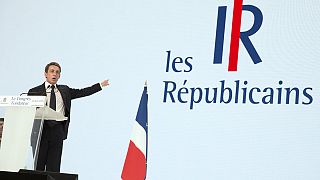 Re-brand the 'UMP' party 'The Republicans'.
Nicolas Sarkozy has secured 83 percent of the members' support for the change.
It is part of preparations for France's presidential elections in 2017, and his aim to re-enter the Elysee.
After the last few years' leadership squabbles and scandals in the UMP, the former president said this reaffirms the party priorities:
"We must restore confidence in school, in the economy, in society, in the family, in justice. That is the goal we set ourselves in choosing the name 'Republicans'. Restore confidence to all those who have lost it, that is the most demanding challenge a political movement can set for itself."
But in spite of the unity emblazoned at the weekend's founding congress, some stalwarts remain unconvinced by the new name, finding it too vague.
Former prime minister Alain Juppé is also determined to win the party's nomination to run for president.
Sarkozy's main challenger said: "We had to turn the page, because the UMP had been through some difficult years, so this gives new momentum, but on the same principles, rallying together."
But Juppé is talking about unity around him, he made clear in a radio interview: "Sarkozy has the party. But I have support, and I'm organising my small company. Sometimes small ones work better than the big ones on the stock exchange."
In other words, a name change will not alter the current balance of strength among factions within the party. Some insist symbolism carries little weight compared to a real programme.
MP Pierre Lellouche, a former foreign trade secretary, says: "If we can't manage to reinvent the Republican pact around what we call our economic and social model, you can change names as much as you want and it will change nothing."
What is more, the name choice, implying that this group alone defends the Republic's values, has offended others, notably the governing Socialist party, which Sarkozy accuses of being socialist before being republican.
Prime Minister Manuel Valls said: "They're not just trying to score points against rivals, that's politics, but it hurts the country, needlessly."
Sarkozy was elected party chief with 64.5 percent of the votes in November. He was president from 2007 to 2012. The endorsement of the party name change on Friday gives him a boost in trying for the presidency again.