Burundi opposition calls for president to quit
Comments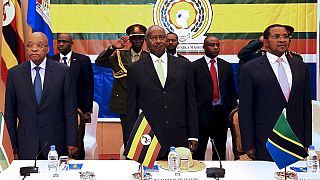 African leaders meeting in Tanzania to discuss the political crisis in Burundi have called for the postponement of contentious elections which have triggered recent unrest.
Burundi's government has said it will consider the proposal to delay them for at least a month and a half but the country's opposition says it is disappointed.
It was President Pierre Nkurunziza's plan to run for a third term which critics say violates the constitution that unleashed a wave of protests.
The president has also faced a coup attempt last month.
Rights groups say at least 20 people have been killed by police and there are fears the violence could trigger renewed ethnic bloodshed.
The opposition has called for the protests to continue until the president quits.
As well as the political crisis there is also a humanitarian one More than 90,000 Burundians have fled the country according to the UN's refugee agency, UNHCR.
They have headed to Tanzania, the Democratic Republic of Congo and Rwanda, which shares a similar thnic mix and suffered a genocide in 1994 in which 800,000 people were killed.