Burundi protests resume after murdered opposition leader's funeral
Comments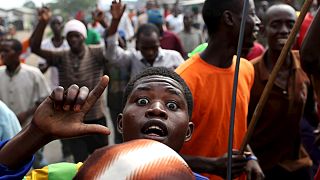 Demonstrators have taken to the streets in Burundi's capital Bujumbura and elsewhere in the country, to protest against the murder of an opposition leader.
One protester was reported to have been killed by police.
It is a continuation of the unrest sparked by the president's insistence on running for a third term in office.
Protesters argue that is unconstitutional – and claim that those who oppose the president's will are being killed.
"We can't be scared of death. This president wants to rule us when he is killing us," cried one protester. "We must fight for our dignity, we must fight for the Arusha accord till the end," he added.
That's a reference to the post-civil war international agreement stipulating maximum two-term presidential limit. The US has criticised Burundi's ruling party for failing to adhere to it.
President Pierre Nkurunziza has shown no sign of second thoughts, arguing his first term did not count. He has called the protests an "insurrection".
On Sunday the funeral took place for Zedi Feruzi, the opposition leader killed the previous day in a drive-by shooting.
His bodyguard also died.
Many of the president's opponents are now said to be in hiding, saying they are not safe.