US Vice-President Joe Biden's son Beau dies of brain cancer
Comments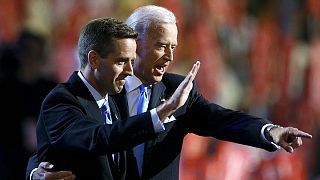 The son of the US Vice-President Joe Biden has died after a battle with brain cancer.
Beau Biden, who was 46, was a former Attorney General in Delaware and had planned to run for governor.
He was close to his father and often appeared with him at political campaigns.
"The entire Biden family is saddened beyond words," Vice President Biden said in a statement released by the White House.
He was diagnosed with brain cancer in August 2013 and underwent surgery, radiation and chemotherapy. After getting a "a clean bill of health" in November of that year, his cancer recurred in the spring of 2015, the vice president's office said.
President Obama paid tribute, saying Beau Biden took after his father.
"Like his dad, Beau was a good, big-hearted, devoutly Catholic and deeply faithful man, who made a difference in the lives of all he touched, and he lives on in their hearts," Obama said.