US and Iran seek common ground as nuclear deal deadline nears
Comments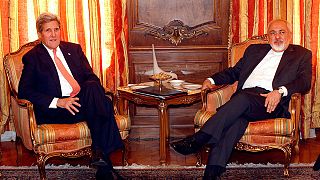 US Secretary of State John Kerry has met his Iranian counterpart Mohammad Javad Zarif in a bid to overcome obstacles to a final nuclear agreement, a month ahead of a deadline for a deal between Tehran and six world powers.
Saturday's talks in Geneva were the first substantive discussions since April's interim accord.
Afterwards, Kerry told reporters that the talks had been 'pretty good'.
But issues remain to be resolved including the push by the world powers for international access to Iran's military sites and its atomic experts.
For its part, Tehran, which denies any ambition to develop a nuclear weapon, wants sanctions to be lifted immediately after a deal is struck.
The United States has said it will not extend the talks beyond the June 30 deadline.
But France, which has demanded more stringent restrictions on the Iranians, has indicated discussions are likely to slip into July. Iran's senior nuclear negotiator Abbas Araqchi has also warned that the deadline might need to be extended.