Nigeria: Suicide blast follows new President Buhari's inauguration
Comments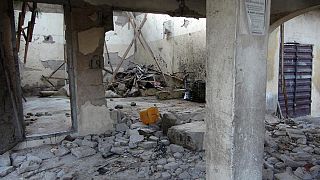 In what looks like an act of defiance by Boko Haram insurgents, a suicide bomber has killed at least 16 people at a mosque in northeast Nigeria.
Saturday's blast in Maiduguri follows a sustained attack in the city's suburbs by the Islamist militants, using rocket-propelled grenades. That claimed at least 13 lives.
Under its new president, Nigeria wants to take a tough stand against Boko Hamam which has killed thousands in its insurgency to carve out a state adhering to strict Islamic law.
At the start of the year, the group controlled a swathe of territory larger than Belgium in the northeast of Nigeria.
Boko Haram has since been pushed back with the help of offensives launched by troops from Chad and Niger while Cameroon has fought them off along its borders.
As feared, however, the group is showing a return to its guerrilla tactics since losing the territory it gained last year.
And the day after his inauguration, the attacks seem designed to send a message to Nigeria's new President Muhammadu Buhari, who has sworn to crush Boko Haram – telling him 'you will be no more successful than your predecessor Goodluck Jonathan'.