Italy votes in local elections, a test for Renzi's ruling party
Comments
By
Euronews
with
AP, La Stampa, Corriere della Sera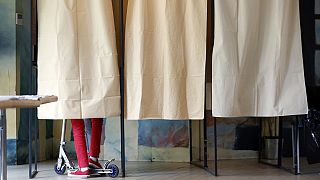 Italians are voting in local elections which are set to gauge the popularity of Prime Minister Matteo Renzi's centre-left Democratic Party (PD) after a year and a half in office.
Renzi is hoping to get a strong result to solidify support for his labour and education reforms.
His proposals have so far met with resistance from trade unions as well as the left wing of his party.
However, Renzi was quick to dismiss claims that the vote was a test of his own popularity.
Renzi: "Il voto delle Regionali non è test su di me" http://t.co/BKjrVllyqHpic.twitter.com/gRyPtG6KDQ

— La Stampa (@la_stampa) May 30, 2015
Amministrative, seggi aperti fino alle 23 Renzi: ma non è un un test sul mio governo http://t.co/EZ7EXeb575pic.twitter.com/SlWTI2mGcD

— Corriere della Sera (@Corriereit) May 31, 2015
Currently, five of the seven regions are governed by the centre-left, while the anti-immigrant Northern League and former leader Silvio Berlusconi's Forza Italia hold the remaining two.
The Northern League are hoping to capitalise on anti-immigrant sentiment as the country struggles to shelter tens of thousands of migrants who are arriving from the Mediterranean.
The polls are the first after European Elections last year in which PD won with 40 % of the vote.
The main battle grounds will be in north-western Liguria, and in Campania, where Renzi's party candidate Vincenzo De Luca is suspected of abuse of office.
The Parliament's anti-mafia committee released 16 names ahead of the local elections of people suspected of corruption or abuse of office. Renzi has accused the committee, which is led by Rosy Bindi from his party, of using the committee to 'settle scores' in the party.
The Prime Minister is hoping that the beginnings of an economic recovery will convince voters to stick with his party.
The polls opened at 7:00 and will close at 23:00 local time with results expected on Monday. Preliminary estimates point to a turnout of between 12-15%.
Primi dati sull'affluenza alle #elezioniregionali, dopo le 12 è oltre il 15 per cento. Tutti gli aggiornamenti su http://t.co/g5P7JMByCd

— La Stampa (@la_stampa) May 31, 2015