Final farewell to B.B. King - with Lucille in attendance
Comments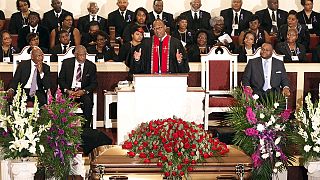 The funeral of B.B. King has taken place in his hometown of Indianola, Mississippi, and
not surprisingly the blues man was joined for his final journey by his beloved custom-made guitar, known as Lucille.
As the instrument lay propped up on King's casket, hundreds of mourners packed into Bell Grove Baptist Church to honour the one-time cotton picker whose talent inspired generations of musicians.
The congregation was told that despite King's greatness, he was loved by everyone.
"For those of us here in Indianola and around the world, B.B. King is a legend, an icon, a musical giant, a world class entertainer," Reverend Herron Wilson told the congregation.
"But to those of you seated before me, he is family, and for that reason, we and the world extend our deepest sympathy to you."
B.B. King died on May 14 aged 89, in Las Vegas.
Two of his daughters have claimed he was poisoned by longtime associates – allegations dismissed as unfounded by an attorney for the artist's estate.