Obama signs Texas disaster declaration after fatal flooding
Comments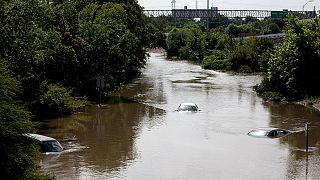 President Obama has declared a state of emergency in parts of Texas stricken by floods following unprecedented rainfall.
At least two dozen people in the state are known to have died, after four more bodies were found on Friday.
The overall death toll is approaching thirty, following the storms which struck the north of Texas on Thursday and Friday.
In Dallas thousands of motorists were stuck for hours when a suburban freeway became blocked by floodwater.
There have been evacuations in several Texas towns, including Wharton about 100 kilometres southwest of Houston, where around 900 people along the Colorado River were forced to leave their homes.
"I have like comforters, towels and, you know, all kinds of little items and stuff I need, my bibles. Junky, but, it's something I need" said Norma Marks, who lives near the river, as she loaded up her car.
Hundreds of people have called for emergency help or spent nights in evacuation shelters.
Some people's homes have been ripped off their foundations and vehicles have floated away.
The presidential declaration frees up federal funds to help the state recover. As yet there is no estimate for the damage in Texas, the priority still being to get people in flood-prone areas to safety.