France-UK drugs sting nets cocaine haul in Azores
Comments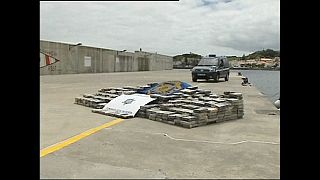 A joint French-British anti-drugs operation was behind the seizure last week of an estimated 70 million euros worth of cocaine in the Azores, the islands in the Atlantic Ocean which belong to Portugal.
The haul which weighed over a tonne was found hidden on board a yacht moored in the port on Faial Island during the night of 27 to 28 May.
The French government says a Serbian criminal gang was trying to ship the cocaine from the Caribbean to Europe.
The seizure was the latest in a series of successes for the French and British authorities, and the largest ever haul of cocaine uncovered in the Azores according to Portuguese officials.
Five men – four Serbs and a German – were arrested, they said.