Wreaths laid in memory of Heysel Stadium deaths in 1985
Comments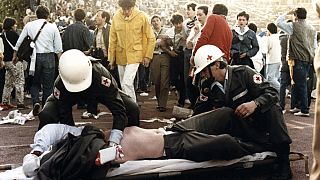 A deadly day in football history, the Heysel Stadium disaster 30 years ago, has been commemorated at Belgium's rebuilt and renamed King Baudouin Stadium.
It was there in 1985 that 39 people were killed and 600 were injured. Most of them were fans of Turin team Juventus.
Before the match against Liverpool had even begun, supporters of that team attacked an area with the other side's fans. They tried to get away but the victims were crushed as fencing and concrete collapsed.
The Juventus fans rioted but the match went ahead.
Overcrowding, not checking tickets and inadequate policing all contributed to the disaster.