Ukraine's former resort city of Shyrokine is now a ghost town
Comments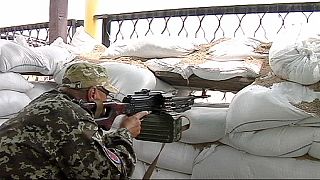 Ukrainian troops are the only people who remain in the country's abandoned tourist resort of Shyrokine near separatist-held Mariupol, reports Euronews correspondent Sergio Cantone.
But just how prepared are they to counter a possible offensive by pro-Russian separatists?
Cantone visited the city after a night of shelling.
"We are just on the front line in Shyrokine, it used to be a busy tourist resort popular with families but now it's an ghost town after clashes between Ukrainian forces and the fighters from the self-declared Donetsk People's Republic (DPR). Now there is a lot of concern about the risk posed by pulling Kyiv's forces out of this area."
Olga who used to be an artist in Donetsk. Now she is a soldier with Ukraine's Donbass battalion. She shared some of her concerns with euronews.
"The weaponry is very bad, if the government wants to keep this city, they should give us more resources, pay more attention and invest more in Mariupol and its defenders. It's a very important city in a strategic location. We're waiting for more help and decisions from the government," Olga said.
Euronews spoke with a major known as "Sedoy" who is from the same unit.
"They [the pro-Russians] made a rotation, Chechens were pulled out of Shyrokine and Russians were deployed there. There are no DPR people out there. Thanks to radio scanners we even know which region are they from."
Russia has repeatedly denied accusations by the West that Moscow has sent troops over the border into Ukraine.