No rest for Texas: floods pound north of state
Comments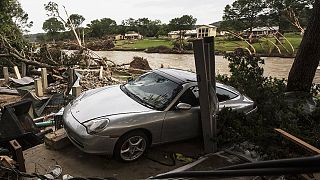 The north of Texas has become the latest part of the US state to be drenched in unprecedented rainfall and floods that have killed at least 21 people in the space of a week.
Hundreds have called for emergency assistance or spent nights in evacuation shelters.
With rivers swelling to dangerously high levels, people's homes have been ripped off their foundations and vehicles have floated away.
Swollen rivers cause Texas cities to worry about more flooding #TexasFloodhttp://t.co/MR6DQw59TOpic.twitter.com/m7ikbOseqx

— ONE News (@ONENewsNZ) May 28, 2015
As streets turn into rivers, state governor Greg Abbott urged Texans to pay attention to severe weather warnings.
In Dallas, floodwaters blocked thousands of cars on a freeway for up to six hours as rainfall reached almost 18 centimetres.
Flash flood watches have been set up in some regions, while 70 counties have been officially declared disaster areas.