Merkel will work constructively with Cameron to reform EU
Comments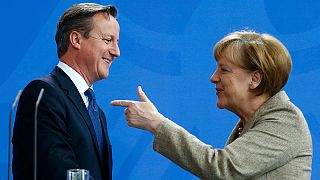 German Chancellor Angela Merkel will work constructively with British Prime Minister David Cameron on reforming the European Union, reaffirming her desire to keep the UK in the bloc.
I will go into these discussions constructively. I want to find a solution.
British Prime Minister David Cameron was in Berlin on Friday (May 29) where he was greeted with military honours.
The UK will hold an in-out referendum on membership of the European Union before the end of 2017.
"The European Union is better off with the United Kingdom as a member and I believe that Britain's national interest can best be served by staying in the European Union on the basis of a reformed settlement," Cameron said at a news conference with Merkel in Berlin. "That is what we both want to happen, and that is what we will work together in the coming months to achieve.
"The outcome we want is to to have changes which address concerns that people have and I have set out what those concerns are and as we address those then I think people will then see that it is right for Britain to stay in a reformed European Union," added Cameron.

Germany's Angela Merkel said she would work constructively with British PM David Cameron on reforming the EU pic.twitter.com/NhhOY9xUAn

— euronews (@euronews) May 29, 2015
Angela Merkel is the EU's major power player.
"We do have one major principle in Europe," said Merkel. "If a member state does have a need or a wish, then we will try to get together and talk about this wish. Although there a basic principles and a red line which is not to be crossed. This concerns [for example] the freedom of trade in Europe and the labour mobility."
Cameron will set out his reform proposals in more detail at an EU summit on June 25 and 26.