Tornado tears through Mexican border town killing at least 11
Comments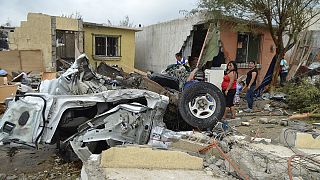 A tornado which ripped through the northern Mexico border city of Ciudad Acuna has left at least 11 people dead.
Tornado rips through Mexican city on Rio Grande, killing 13 http://t.co/1aTKQyQzGppic.twitter.com/rdvsL1zjKT

— Los Angeles Times (@latimes) May 25, 2015
An estimated 180 people were injured in the whirlwind which destroyed as many as 350 homes and wrecked cars.
Most of those who died had been out in the open when the tornado struck.
A search is still going on for victims.