Tornadoes and record rainfall wreak havoc in northern Mexico and southern US
Comments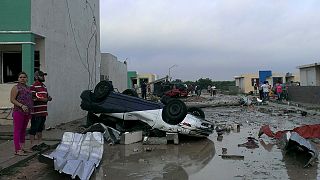 A freak tornado has ripped through a border city in northern Mexico, leaving more than a dozen people dead and many more injured.
Flipping over cars and tearing down homes, it left a trail of destruction in Ciudad Acuna.
Three children were among those killed, when the surprise whirlwind hit in the early hours of Monday.
Across the border in the southern US, tornadoes and record rainfall are causing chaos in Texas and Oklahoma.
Twelve people are missing after their holiday home was swept away in Texas.
Steve Thurber, San Marcos Mayor, said communities are trying to recover.
"It's a tremendous clean-up operation for them. They've lost their homes, they've lost their livelihoods and some businesses. So we're there to get it cleaned up."
Texas' governor has likened the ferocity of flash flooding to a tsunami. States of disaster have been declared in 24 counties.
Forecasters say there is more bad weather to come.
WOW! Tornado seen earlier this Monday evening near Pecos, Texas. Photo credit: Kryshna Alfaro. #Tornado#TXwxpic.twitter.com/wbi0w3OQqR

— Mark Tarello (@mark_tarello) May 19, 2015
JUST IN: #Tornado watch for parts of Texas & Louisiana including #Houston until 2am CDT. pic.twitter.com/C0F15SqWY4

— The Weather Channel (@weatherchannel) May 25, 2015