Sweden's winning Eurovision singer gets 'heroes' welcome
Comments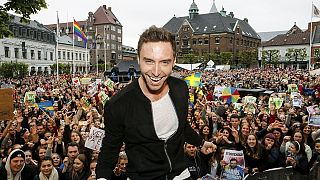 Swedish singer Mans Zelmerlow was given his own 'heroes' welcome when he returned to his home town of Lund as winner of Saturday's Eurovision Song Contest.
Hundreds turned out to greet the the twenty-eight-year-old who successfully beat off stiff competition from Russia and Italy with his song entitled "Heroes".
Zelmerlow hopes the win will help him launch an international career:
"This was definitely a big dream and to win the Eurovision Song Contest is, as I said, almost too good to be true. But the dream is an international tour, an international career and I hope that this has opened some doors for that and that is what I will continue to work for."
Sweden has won the 60-year-old competition six times, more than any other nation apart from Ireland. After this latest success the country gets to host next year's singing extravaganza.
Saturday's contest which is the world's biggest international show was watched by more than 195 million people in 45 countries.