Major flooding hits Mexico and Texas, thousands stranded
Comments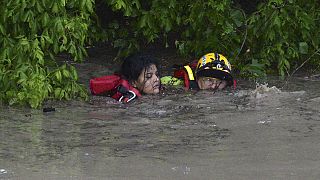 Record rainfall in the US state of Texas has flooded major motorways, making driving impossible for many people in the Houston area.
Some drivers who became stranded in their cars waited for rescuers.
Tornadoes and record rainfall have left more than 1,000 homes damaged or destroyed in Texas, and thousands of residents are displaced.
"The defining feature of Houston is the small rivers that run through the city," said Houston Mayor Annise Parker. "Many of them went over their banks and began to flood neighborhoods. Our focus has shifted to making sure that folks who might be trapped in their houses or on dry land in rising water have access to rescue."
Meanwhile a freak tornado has ripped through a border city in northern Mexico – leaving more than a dozen people dead and many more injured.
Three children were among those killed when the surprise whirlwind hit.
Flipping over cars and tearing down homes, it left a trail of destruction in Ciudad Acuna.