14-year-old Austrian jailed over Vienna train station bomb plot
Comments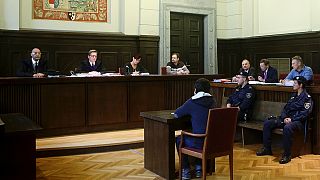 A teenage boy from Austria has pleaded guilty to planning to bomb a Vienna train station. The 14-year-old downloaded bomb making instructions onto his Playstation games console and contacted religious militants in Syria liked to the group calling itself Islamic State (ISIL).
His lawyer, Rudolf Meyer, was asked by reporters what motivated the boy to do what he did.
"It's due to being socially excluded to a certain extent,being discriminated against," said Meyer. "If Western countries don't see that money needs to be spent to fight radicalisation, it won't just be him, but thousands of other youths."
Meyer said the boy had only been "playing with the idea" of making a bomb.
The teen was sentenced to two years in jail. Sixteen months were suspended. He will serve the remaining eight months in a juvenile detention centre.
Police had said at the time of his arrest in October 2014 that the boy made "concrete enquiries about buying ingredients" for a bomb and "planned to explode the devices in public places, such as the Vienna Westbahnhof," a major train station.
According to Austria's interior ministry more than two hundred people have left Austria to fight in the Middle East.