Three lessons from Spain's local elections
Comments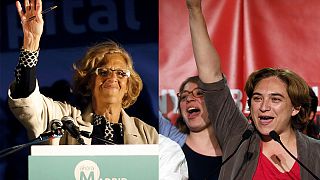 Spain's local and regional elections haven't been the earthquake some expected, but they have been a huge shock to a political landscape dominated by mainstream parties since the country's democratic transition in the late 1970s.
1. Vote for a change not for parties
The success of candidates from the indignados movement (such as in Madrid and Barcelona, but also Valencia and the Balearic Islands) is not just a triumph of anti-austerity party Podemos. Some are candidates that do not have links to a particular party.
For instance, Ada Colau in Barcelona was a prominent anti-evictions activist, not a member of Podemos.
Que de vueltas puede dar la vida. #Eleccion2015pic.twitter.com/ExrK3hjsUI

— Cassandra (@kira_95) Mayo 24, 2015
Meanwhile retired lawyer Manuela Carmena – who could govern in Madrid if she forms a coalition – has distanced herself from Podemos, despite the fact it was the party's secretary general that convinced her to stand.
In fact, Podemos was losing support in the last poll before the election.
2. No money? Go viral
The campaigns of these newcomers were crowdfunded with a tiny budget: 145,000 euros for Ahora Madrid, 160,000 for Barcelona en Comú. The Popular Party hasn't detailed the budget for each regional campaign but had a comfortable 20 million euros kitty for the whole election period, the maximum allowed.
David has beaten Goliath with a mix of personal sympathy for the candidates, irritation against the traditional parties and creativity. Tons of creativity to flood the social networks with their messages for change.
Manuela Carmena, virtually unknown to the public 20 days ago when the campaign started, is now a "pop icon" depicted thousands of times by professional and amateur designers and illustrators. There are also songs, and all sorts of other online activity, most of them completely out of the control of politics.
The "Manuela effect" (and less importantly the Colau effect) will be studied in political communications as a "viral miracle".
Amigas, tomaos unas copas a nuestra salú, por favor. Porque, ManuelaCarmena</a>, será ALCALDESA DE MADRID. <a href="https://twitter.com/AhoraMadrid">AhoraMadridpic.twitter.com/uS31xbA1NE

— #ManuelaAlcaldesa (@mlg_madrid) Mayo 25, 2015
3. The end of the stability myth
Voters have told candidates: "Now, negotiate!" Spain doesn't care anymore if political stability is at risk, or if regional parliaments become ungovernable.
They want politicians to do the politics and negotiate, as if this could somehow be a fence to the spread of corruption scandals or the anti-austerity policies and privatisations that have been the rule with the Popular's Party absolute majority.
Spanish politicians have now to learn a whole new bunch of negotiating skills.
It will be a first for a whole generation of politicians used to either ruling or being in opposition, but certainly not very familiar with coalitions.
In Madrid's regional Council, candidate Cristina Fuentes is already trying to build some ties with center right Ciudadanos, who failed to become the kingmaker they thought they'd be.
Gracias a todos los que habéis confiado en mi proyecto. Me gustaría se…. http://t.co/Ug8CeLhNh3pic.twitter.com/gsLgcNVilX

— Cristina Cifuentes (@ccifuentes) Mayo 25, 2015