Madrid residents react to Spain's political shake-up
Comments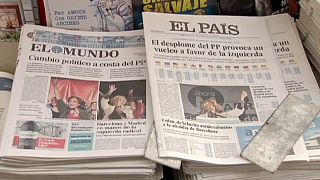 Although Spain's ruling People's Party (PP) got more votes than any other party in Sunday's (May 24) regional and local elections, it and the rival Socialists will need to negotiate coalitions with the new minority parties in most regions and more than 8,000 towns and cities.
Madrid residents have reacted to the political shake-up.
"I think that the citizens have spoken and they will continue speaking and we will continue speaking," said one female resident. I'm very proud of the fact that Madrid and Barcelona are at the start of a new era."
"People have said that the PP may have received the most votes, but now they need to move on from mistakes of the past, and open a dialogue and look for other solutions," said an elderly man.
At the PP headquarters in Valencia, dozens of shocked supporters, many of them young activists, fought back tears at the news their party would likely lose control of the city to a left-wing coalition.
Celebrations as Spain's ruling party lose out http://t.co/rsydgHfiFLpic.twitter.com/kiX9eI3As2

— RTÉ News (@rtenews) May 25, 2015
Dramatic victories for the left in Spain. Thanks for showing us how it should be done! http://t.co/ZiQhud1akY

— Owen Jones (@OwenJones84) May 25, 2015