New parties break Spains' political duopoly in local & regional vote
Comments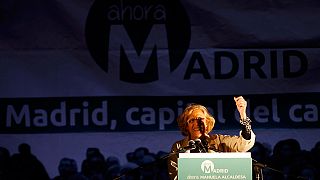 Spain's traditional parties of both left and right took a fearful battering in local and regional elections on Sunday, with the ruling Popular Party facing losing control of Madrid for the first time in two decades.
Podemos leader Pablo Iglesias immediately hailed former judge Manuela Carmena, who came out of retirement to fight for the capital for the upstart left-wing party, as the city's new Mayor.
"Right now it is clear that a majority of people voted for a change, these people want change," said the former Communist.
The PP hung onto its biggest party status in Madrid, but only just. Podemos, if they ally with the Socialists, will have a majority. The other big beneficiary of voter disillusion nationally was the centre-right Ciudadanos.
"There is a big party here in Madrid to celebrate Manuela Carmena putting an end to the absolute majority of the Popular Party. Now we'll see what happens with the coalition talks, but the only thing for sure is that a new era has started in the Spanish capital," says euronews' Carlos Marlasca.
The PP's out-for-the-count Countess, Esperanza Aguirre was seen as a tough nut to crack, and was quick to find the reasons for defeat.
"The financial crisis that lasted for such a long time yet has almost turned around and inflation, which is rising at the moment but still continues to be a large problem and has left many people unemployed. Corruption has without a doubt also taken its toll and cost the PP votes," she said.
Second city Barcelona also fell, with an anti-eviction activist Ada Colau elected as Mayor. She leads the 'Barcelona In Common' party which could form another left-wing coalition.
Nationwide the Socialist and PP share of the vote dropped from 65 to 52%, and new parties will hold the balance of power in many municipalities.