Tearful farewells, kung-fu kicks and Ronaldo's insane goal tally
Comments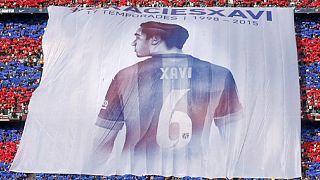 It was a weekend of ''farewells'' across the world of European football
Big boots are to be filled at Barcelona.
Captain Xavi played his final game for the Catalans at the weekend.
After joining as an 11-year-old in 1991, Xavi played 17 seasons in the first team and amassed 23 trophies.
He fought back the tears as he thanked the fans, moments after hoisting the club's fifth La Liga trophy in seven years and his eighth.
He has now joined Qatari side Al Sadd.
It wasn't just Hull, Burnley and QPR saying goodbye to the Premier League at the weekend.
Two years after his first 'Blues' farewell Didier Drogba again said goodbye to Chelsea.
He was carried from the pitch by his team-mates like a King in the first half but later enjoyed the celebrations of lifting a fourth league title with the Londoners.
Steven Gerrard and Frank Lampard have now also left the English topflight with both heading state side; Gerrard to LA Galaxy and Lamps off to New York City FC.
It was not just players bidding an emotional farewell.
Coach Jurgen Klopp said his goodbyes to Borussia Dortmund after overseeing his final game in charge at the Signal Iduna Park.
Klopp guided his men to two league titles in 2011 and '12 and the champions League final the following year.
The German Cup final at the end of the month will be his last before a rumoured move to Real Madrid.
Up and down
Europe's domestic leagues have come to a close for this season. Who is worth celebrating from the final weekend of action and who just disappointed?
Cristiano Ronaldo capped off his prolific season in front of goal with another hat-trick. The Portugal international's three goals for Real Madrid against Getafe lifted him to 48 league goals and a personal best 61 in all competitions.
Making our down list is Liverpool who ended a miserable campaign by being thrashed 6-1 by Stoke.
It was their worst defeat in any competition since April 1963 and was a disappointing end to the Liverpool career of Steven Gerrard who now moves to LA Galaxy.
Joining Liverpool on the down list are AC Milan and Inter who have also suffered poor league campaigns – so much so that for the first time in 60 years, there will be no team from Milan playing in Europe.
On this day
This week, in ''On this day'', we're going to tell you once again about a Champions League final, although at this particular time it was called the European Cup.
We go back 48 years, when a British Club finally climbed to the summit of the Europe game.
On 25 May 1967, Celtic became the first British club to win the European Cup, beating Inter 2-1 in Lisbon. Notably, fourteen of Celtic's fifteen players and coaches were born within 10 miles of Celtic Park.
Inter won back-to-back European Cups in '64 and '65, then defeated defending champions Real Madrid in the 1967 semi-finals to reach their third final in four years.
Celtic, meanwhile, were in the tournament for the first time. In just the seventh minute, the referee awarded Inter a penalty when Celtic right back Jim Craig fouled forward Renato Cappellini in the box.
Sandro Mazzola converted the ensuing kick to put the Italians up 1-0, allowing them to pull back into their defensive catenaccio formation favored by manager Helenio Herrera.
And it worked, for a while. But in the 63rd minute, Craig sent the ball in for Tommy Gemmell, who beat the Inter keeper Giuliano Sarti to draw Celtic level.
Then, in the 84th minute, they took the lead when Stevie Chalmers scored the winner. Afterward, manager Jock Stein delivered a not-so-veiled criticism of Inter's defensive style, saying "We did it by playing football; pure, beautiful, inventive football.
There was not a negative thought in our heads." Celtic returned to the final in 1970, but lost to Feyenoord. Inter made it there twice more, losing to Ajaz in 1972, but beating Bayern Munich in 2010.
We might be wrong
Next weekend will see the finals of the various national cups across Europe. But before all of that, on Wednesday night, Warsaw will host the Europa League's final act. We've had a stab at predicting some selected upcoming cup finals. don't forget to send us yours predicitions on the social networks using #TheCornerScores.
Europa League: Dnipro 0-2 Sevilla
FA Cup: Arsenal 3-1 Aston Villa
Copa Del Rey: Athletic Bilbao 1-4 Barcelona
DFB Cup: Borussia Dortmund 3-1 Wolfsburg
Bloopers
For this week's ''Bloopers'' we've selected three rather ''original'' red cards. One, given in Australia, for a tackle on a mascot while the other two – a bit less comical – were given to two players in Peru, for some kung-fu style football. (See clip above)