70 people wounded in Afghanistan suicide bombing
Comments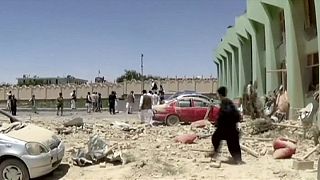 Afghan police say a Taliban suicide bomber wounded 70 people when a truck laden with explosives was detonated in the south of the country.
The Afghan Taliban said they are to blame for the blast which occured in Zabu neighbourhood in Qalat city.
Police said the attack – which they believed used more than 1,000 kilograms of explosives – was carried out near several government offices, including courts, the attorney general's office, Zabul municipality and the women's affairs department.
It's the latest in a series of explosions after most foreign troops withdrew from the country.